Overhaul your workstation with equipment and asset maintenance software to harness the power of digital transformation!
"Kiri.works is one of its kinds,an industry-tailored business software solution for digital transformation of workshop and garage business operations."
Kiri.works were born purely out of the necessity of workshop, garage, equipment maintenance and industrial asset maintenance business automation solution that is fully customised to the unique needs of specific industry. In addition to that, each business is different, and Kiri.mine is the product that can be both quickly configured to suit how you run your business, and adhere to industry best practices at the same time.
Tailored business software for workshop management, asset and fleet maintenance business
Workshops and Garage Business
A complete suite of solution for digital transformation of workshop and garage related businesses with digital inventory management & spare management solution along with of digital job progress card. Get proactive alerts for contract renewals and execution to boost your real profits with multiple customers. Provide remote assistance to your garage service field staff right on the field to deliver services with field app along with real-time equipment safety and health monitoring.
Industrial maintenance Department
Business automation solution to transform digitally your maintenance department and maintenance workshop operations. Operational excellence through proactive digital maintenance logs, fault records and job progress status for industry-wide assets and equipment. Plan your equipment maintenance and thus improve your system uptime availability. Provide remote assistance to your field maintenance staff to deliver efficient maintenance services with field app along with real-time equipment safety and health monitoring.
Equipment rental services
With real-time digital equipment health monitoring and maintenance solution we help you harvest customer satisfaction. Manage multiple types of equipment for multiple customers with varied need digitally just on the fly. Proactively do the remote monitoring of your critical equipment and create a positive impact on your ROI.
Inbound & outbound logistics
Improve order turnaround time impacting top & bottom line of your inbound and outbound logistics business operation for mining and quarry business. Helps you to create & manage proactive real-time logistics with variable customer demands profitably. Optimise the logistics operations & cost with Improved transport capacity, efficiency, reliability & create impactful customer experience enhancing customer loyalty.
Most outstanding features of Kiri.works software to help workshop and garage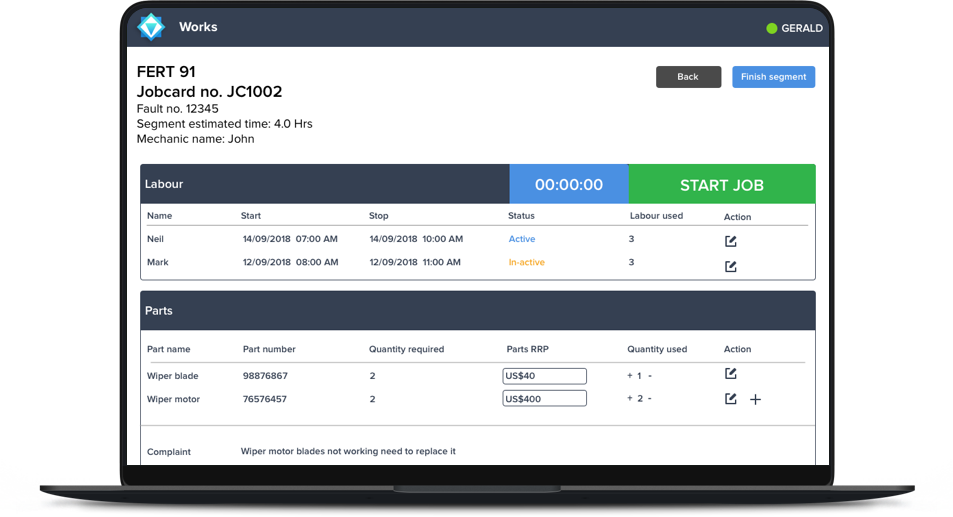 Maintenance schedules and reminders
Stay updated and manage proactively your maintenance schedule real-time of your equipment and assets. Digitally set reminders for maintenance due dates helping you to bring accidental down break and adding uptime to your supply chain network. Plan your equipment & mining downtime across all locations to optimize mining operations.
Smart dynamic price lists
Dynamically maintain different price lists for different capacity, categories of equipment, customers, including seasonal price lists pertaining to your specific seasonal marketing campaigns. Manage pricing changes on the fly and maintain a full and comprehensive pricing history by product lines.
Smart Job Card
Manage the entire maintenance activities right form creating a job card to the progress of every stage digitally from a single timeline screen across the period and operating hours of your choice. Save precious effort of staff by managing your entire business from a single, visually driven screen. Flip view in the real-time for time-line staff allocation, asset allocation and ROI per resource utilisation on the unified view.
Contract Management
Smart digital contracts, with an instant settlement across the business value chain. Enforcement of contract rules without the need for manual mediation. Create contracts for capacity, routes, locations, timelines or asset & equipment leases, and be in full control of the business network.
Connect with business associates and operate as a single system
Create and manage single seamless digital business value chain for all your field staff, equipment operators and fleet of equipment.
Equipment Monitoring with Geo-location
Plan, place, locate and retrieve your equipment by customer allocation and specific geo-located map positions for accurate, quick & easy management of the leasing lifecycle.
Safety built into the operating gear
Every KiriHQ edition comes with basic OHS (Organisation Health and Safety) built-in for the safety of your staff, complete with basic pre-start checklists and basic Job Safety Assessments (JSAs) built-in for operating fleet equipment. Stay updated for compliance requirement real-time.
Field app for maintenance tracking
A first-in-class, totally integrated field app that allows businesses to have complete control on job progress, navigating drivers to desired delivery and pick up locations, updating the real-time progress on the move and metadata on-site and seamless updating of maintenance activities progress at job check-offs and invoicing – all as one, seamless flow.
Maintenance history of equipment  and customer
Manage the accurate history of the maintenance work undertaken in past for all equipment, complete with reporting that can be shared periodically with operators and supervisors & managers for various purposes and deep dive to get unseen insight.
Integration with ordering systems
Integrate with any external ordering of your logistics network, demand centres and customers resource planning systems, with the help of secure and easy to scale web-based APIs at ease.